How to Keep Your Employees Competitive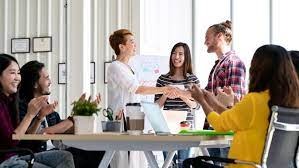 One of the most important resources of any business or company is its people. It is the people who turn visions to reality, ensure deliverables are provided to customers on time and in good quality, and make everything run smoothly. Though technologies are said to be replacing human hands, it still cannot be argued that it is the people behind the machines and computers that can help a business succeed.
So, it is vital for any business to keep their people working in optimal capacity. Investing time and financial resources in them will both be profitable for your company and your employees in the long run. Below are three ways you can keep your employees motivated to do their best every day at work.
Incentive scheme – Yes, it's only natural to expect employees to do their job. That's why they are getting paid for it, right? But some people go far above and beyond their job description. To prevent them from getting exhausted, and to encourage other employees to also go the extra mile, devise an incentive scheme that will reward their extra efforts. It will motivate them to more of what is expected of them, and this will help increase your company's overall productivity and growth.
Team building – Team buildings create opportunities for your employees to interact with each other outside the workplace. If carefully planned, a team building event can renew the vigour and passion of your workforce, while enhancing their camaraderie, teamwork, cooperation, and unity. Team building activities can also give your staff a much-needed break from all their daily tasks, and make them feel appreciated by the company.Team building activities can include games that employees from different teams will have to participate in, or teams can compete with other teams and there will be an overall winner in the company. Sports festivals are also a great way to give your employees a breather and release their competitive spirit.
Training programs – Arranging training programs for your staff can help prevent them from getting "dull." Regular trainings can keep them updated on the latest best practices in your industry, and it will serve as an avenue where they can further hone their skills and expand their knowledge base and experience. If you want to include activities but don't have enough office space for it, then you can book training rooms in Dubai to hold the event.You can have a training period of one day, or for several days. These training rooms have flexible schedules, but you should book in advance to avoid conflicts. One of the choice provider of training rooms and meeting rooms in Dubai is Fluid Meet. You can visit their website here.